Benefits Of Seeing A Nutritionist For Weight Loss
Are you struggling to lose weight and maintain a healthy lifestyle? Have you tried countless diets and exercise routines without seeing any results? It may be time to consider seeking the help of a nutritionist. Seeing a nutritionist can offer numerous benefits when it comes to weight loss, including personalized plans, education on proper nutrition, accountability and support, and sustainable lifestyle changes.
A qualified nutritionist can work with you to create a customized plan based on your unique needs and preferences. This plan will take into account your current diet, physical activity level, medical history, and other factors that may be impacting your ability to lose weight. With this personalized approach, you'll be able to achieve your goals more effectively than with generic diets or workout plans. Additionally, working with a professional who has extensive knowledge about proper nutrition can help you make informed choices about what foods to eat and how much of them to consume. By gaining an understanding of basic nutritional principles such as macronutrients (carbohydrates, proteins, fats), micronutrients (vitamins and minerals), and caloric intake requirements for your body type and activity levels – you'll be better equipped to develop healthy eating habits that will last a lifetime.
Key Takeaways
Personalized plan based on unique needs and preferences
Progress tracking provides accountability and motivation
Tailored plan crucial for success
Guidance from a professional leads to lasting lifestyle changes
Personalized Plan for Weight Loss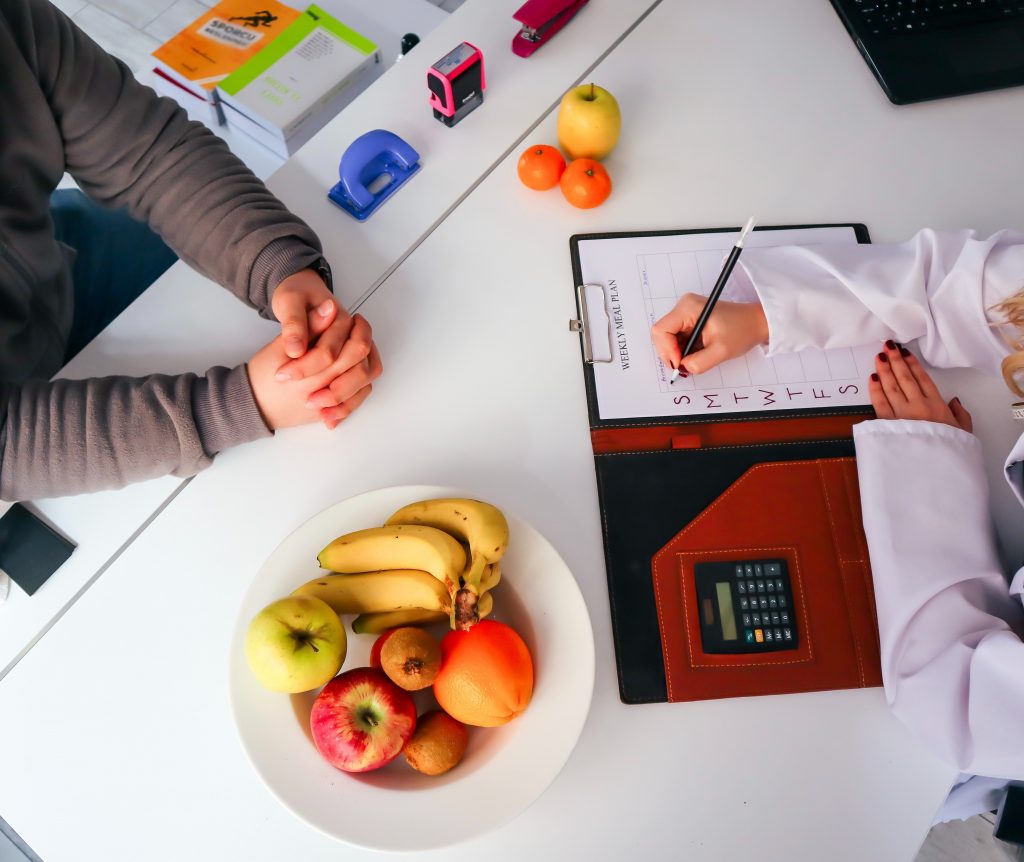 You'll receive a personalized plan for weight loss that's tailored to your unique needs, preferences, and lifestyle, so you can achieve your goals with ease and enjoy the journey along the way. A nutritionist will take into account your current health status, medical conditions, dietary restrictions, and food preferences to create a customized approach that works for you. They will provide guidance on portion sizes, meal timing, food choices, and nutrient balance to help you lose weight in a healthy and sustainable way.
The benefit of having a personalized plan is that it takes the guesswork out of weight loss. You don't have to rely on fad diets or generic advice that may not work for your body type or metabolism. Instead, you have a roadmap that outlines what foods to eat and how much to eat at each meal. This makes it easier to stick to the plan and make progress towards your goal. Plus, if something isn't working or needs tweaking along the way, your nutritionist can adjust it accordingly.
Another advantage of seeing a nutritionist for weight loss is progress tracking. Your nutritionist will monitor your weight loss progress regularly by measuring changes in body composition (such as body fat percentage), energy levels, hunger/fullness cues, and other metrics. This allows them to make data-driven decisions about adjusting your plan as needed. It also provides accountability and motivation since you know someone is checking in on your progress regularly.
Getting a personalized plan from a nutritionist is an effective way to jumpstart your weight loss journey. It takes into account all aspects of your life – from medical history to daily routine – so you can achieve success without sacrificing enjoyment or convenience. The added benefit of progress tracking keeps you accountable while providing valuable feedback on what's working well for you so far! With this foundation laid out by expert guidance around proper nutrition education; achieving long-term success has never felt more within reach!
Education on Proper Nutrition
Learning about the right food choices and their nutritional value can be empowering in achieving a healthier lifestyle. By seeing a nutritionist, you can gain valuable knowledge about the nutrients your body needs and how to incorporate them into your daily meals. This education on proper nutrition not only helps with weight loss but also promotes healthy habits that can benefit you for years to come.
A nutritionist can help identify any nutrient deficiencies you may have and provide solutions to correct them. Many people who struggle with weight loss are not consuming enough of certain nutrients such as fiber, protein, or healthy fats. By working with a nutritionist, you can learn how to balance your diet and ensure that you are getting all the essential nutrients your body needs.
When it comes to weight loss, there is no one-size-fits-all approach. A personalized plan based on your individual needs and goals is crucial for success. The education provided by a nutritionist ensures that you understand which foods will provide the most benefits for your specific situation. Armed with this knowledge, you will be able to make informed decisions about what to eat and when.
Incorporating healthy eating habits into your lifestyle may seem challenging at first, but with the guidance of a professional, it becomes much easier over time. As you learn more about proper nutrition and begin implementing changes in your diet, having accountability and support from a nutritionist can make all the difference in staying on track towards reaching your weight loss goals.
Transitioning into the next section: With education on proper nutrition under your belt, let's explore how accountability and support from a nutritionist can further enhance weight loss success…
Accountability and Support
It's funny how we often think we can do it all on our own, but having the accountability and support of a nutritionist can be the missing piece to achieving our health goals. When working with a nutritionist, you'll have someone who is invested in your individual progress and success. They will hold you accountable for your actions and help keep you on track towards reaching your weight loss goals.
Having a nutritionist also provides emotional support throughout your weight loss journey. They are there to listen, offer encouragement, and provide motivation when times get tough. This emotional well-being aspect is important because many people struggle with staying committed to their weight loss plan due to stress or life events that may arise. With a nutritionist by your side, you'll have someone who understands these struggles and can help guide you through them.
In addition to providing support and accountability, a nutritionist can help tailor a plan specifically for your needs. No two people are alike when it comes to weight loss; everyone has different dietary needs based on their lifestyle, body type, medical history, etc. A good nutritionist can create an individualized plan that takes all of these factors into account.
With the help of a nutritionist's guidance, individuals are better able to make sustainable lifestyle changes that lead to long-term success in maintaining their desired weight loss goals. Making small changes over time with the guidance of an expert not only produces results but also helps develop healthy habits leading towards lifelong wellness without feeling restrictive or deprived.
Moving forward into the subsequent section about sustainable lifestyle changes; incorporating these healthy habits allows us all the freedom needed while still enjoying food as fuel for our bodies rather than obsessing over every calorie consumed or fighting constant cravings for unhealthy foods!
Sustainable Lifestyle Changes
Incorporating sustainable lifestyle changes is like planting seeds of healthy habits that will grow into a fruitful life full of vitality and well-being. One of the biggest benefits of seeing a nutritionist for weight loss is the long-term success you can achieve through habit formation. Instead of relying on fad diets or quick fixes, a nutritionist can help you create realistic goals and develop healthier habits that will stick with you for life.
When it comes to weight loss, many people focus on short-term results instead of making lasting changes. A nutritionist can help shift your perspective by working with you to establish healthy eating patterns and exercise routines that are manageable and enjoyable. By creating sustainable lifestyle changes, you'll be more likely to maintain your progress over time rather than slipping back into old habits.
Forming new habits takes time, but a nutritionist can provide guidance and support every step of the way. They can help identify areas where you might struggle and suggest strategies for overcoming obstacles. Additionally, they can hold you accountable by checking in regularly to monitor your progress and offer encouragement when needed.
Incorporating sustainable lifestyle changes isn't always easy, but it's worth it in the end. With the help of a nutritionist, you can learn how to make healthier choices that become second nature over time. This sets you up for long-term success when it comes to managing your weight and overall health. As we move forward, let's explore how guidance for meal planning plays an important role in achieving these goals.
Guidance for Meal Planning
To make sustainable lifestyle changes, you need to plan your meals with guidance from a nutritionist. This is because meal planning is an essential component of weight loss. A nutritionist can help you create a meal plan that includes all the necessary nutrients while also ensuring that you are consuming fewer calories than you burn each day. They will also teach you how to practice portion control, which is crucial for weight loss.
Portion control involves eating smaller portions and limiting your food intake to avoid overeating. It's easy to consume more calories than necessary if you don't pay attention to how much food you're eating. A nutritionist can guide you on how to measure your food portions using measuring cups, spoons, or even visual cues like comparing the size of your protein serving to the palm of your hand. By practicing portion control and making healthier choices, it becomes easier for you to attain your desired body weight.
If you have been struggling with what types of meals are best suited for your goals or finding yourself in a recipe rut, consulting with a nutritionist may be helpful. They can provide recipe ideas that are both nutritious and delicious while also accommodating any dietary restrictions or preferences that you may have. This way, meal times become less mundane and more enjoyable.
By following a personalized meal plan created by a nutritionist, practicing portion control techniques and incorporating tasty recipes into your diet, achieving sustainable weight loss becomes much easier without feeling deprived or overwhelmed. However, sometimes medical conditions such as thyroid problems might hinder progress towards achieving one's health goals; thus addressing underlying medical conditions alongside working with a qualified healthcare professional becomes important in ensuring long-term success in managing one's health and wellness goals without frustration or disappointment.
Addressing Underlying Medical Conditions
Dealing with any underlying medical issues that may be hindering your progress towards your health goals is a crucial step in achieving long-term success. When you consult with a nutritionist, they will perform a comprehensive medical assessment to identify any potential medical conditions that may be affecting your weight loss journey. This thorough evaluation includes analyzing your medical history, conducting physical examinations, and running laboratory tests.
Once the nutritionist identifies any underlying medical conditions that may be contributing to your weight gain or hindering weight loss efforts, they will work with you to develop an individualized treatment plan. The treatment options vary depending on the specific condition but may include medication management or dietary modifications tailored to improve the condition's symptoms.
Addressing underlying medical conditions not only aids in weight loss efforts but also promotes overall health and well-being. It is important to understand that without addressing these underlying issues, fad diets and unsafe practices are unlikely to provide lasting results.
Seeking guidance from a nutritionist can help address any underlying medical conditions that could impede progress towards achieving your ideal body weight. Through comprehensive assessments and customized treatment plans, you can achieve sustainable results while promoting overall health and well-being. Avoiding quick fixes like fad diets and unsafe practices is essential for long-lasting success on your journey towards optimal health.
Avoiding Fad Diets and Unsafe Practices
You should steer clear of fad diets and unsafe practices if you want to achieve sustainable results and prioritize your overall health. While it may be tempting to try out the latest diet trend or weight loss program, these often promise quick fixes that can do more harm than good in the long run. Fad diets usually restrict certain food groups or require extreme calorie reduction, leading to nutrient deficiencies and even causing metabolic damage. Unsafe practices like skipping meals or over-exercising can also have negative effects on your body.
To emphasize the risks of fad diets, consider this: many popular diets are not backed by scientific research and lack essential nutrients needed for a healthy body and mind. Instead of following unproven methods, focus on safe weight loss methods that prioritize a balanced diet with plenty of fruits, vegetables, whole grains, lean protein, and healthy fats. You should also aim for gradual weight loss rather than rapid changes that could lead to rebound weight gain.
Another reason why avoiding fad diets is important is because they can negatively affect mental health as well. The constant cycle of gaining and losing weight through unsustainable means can cause stress, anxiety, depression, and even eating disorders. To avoid these risks altogether, work with a registered dietitian or nutritionist who can provide personalized recommendations based on your individual needs.
By prioritizing safe weight loss methods over fads and unsafe practices, you'll not only see better results but also improve your overall health in the process. In addition to shedding excess pounds, you'll also reduce your risk for chronic diseases such as heart disease and diabetes while increasing energy levels and improving mood. With guidance from a professional nutritionist or dietitian who focuses on evidence-based approaches rather than trends or gimmicks, you'll be able to make lasting lifestyle changes that benefit both your physical and mental health.
Improved Overall Health
By focusing on safe and sustainable practices, you can achieve a better quality of life and enjoy the fruits of your labor. One of the most significant benefits of seeing a nutritionist for weight loss is an improved overall health. Nutritionists can provide expert advice on how to maintain a balanced diet that meets all your nutritional needs. They can also help identify any dietary restrictions you may have, such as food allergies or intolerances.
In addition to providing guidance on healthy eating habits, nutritionists can recommend nutritional supplements that may benefit your weight loss journey. These supplements not only help with weight loss but also support your overall health by providing essential vitamins and minerals that may be lacking in your diet. However, it's essential to note that not all supplements are created equal, and some may even be harmful if taken in excess. That's why it's crucial to seek advice from a qualified nutritionist before adding any supplements to your diet.
Many people overlook the importance of good nutrition when trying to lose weight quickly. Fad diets often promise quick results but are unsustainable and potentially dangerous in the long run. By working with a nutritionist, you'll learn how to make lifestyle changes that will lead to sustainable weight loss while maintaining good health. A well-balanced diet rich in whole foods means you'll feel fuller longer and have more energy throughout the day.
Seeking out professional guidance from a qualified nutritionist can significantly improve your overall health when attempting weight loss safely and sustainably. With their expertise, they'll develop a personalized plan tailored specifically for you based on your individual needs and preferences while taking into account any dietary restrictions or nutritional deficiencies you may have. Incorporating healthy eating habits into your daily routine paired with regular exercise will result in long-lasting success without sacrificing good health along the way!
About Draper, Utah
Draper is a city in Salt Lake and Utah counties in the U.S. state of Utah, about 20 miles (32 km) south of Salt Lake City along the Wasatch Front. As of the 2020 census, the population is 51,017, up from 7,143 in 1990.
Neighborhoods in Draper, Utah
Allen, Wooded Acres, Willowbrook Estates, Altara Heights, Sunrise Station Neighborhood Park, Whisperwood Neighborhood Park, Draper, Pheasant Meadows Neighborhood Park, Farley Acres, Neighborhood PreSchool LLC Draper, UT, Crescent, White Sands, Hillshire, Willow View, Prospector Place, Wright, Altawood Place, Independence at the Point, Silver Sage, Rockhampton Estates
Things To Do in Draper, Utah
Bus Stops in Draper, Utah to Reform Lifestyle with Ike Cella
Bus Stop in Draper Station Draper, Utah to Reform Lifestyle with Ike Cella
Bus Stop in Draper 7-11 Draper, Utah to Reform Lifestyle with Ike Cella
Bus Stop in Draper Town Center Station (Bay A) Draper, Utah to Reform Lifestyle with Ike Cella
Bus Stop in Draper Station (Bay A) Draper, Utah to Reform Lifestyle with Ike Cella
Bus Stop in 12300 S / 210 E (WB) Draper, Utah to Reform Lifestyle with Ike Cella
Bus Stop in Draper Station Draper, Utah to Reform Lifestyle with Ike Cella
Bus Stop in 13490 S / 428 W Draper, Utah to Reform Lifestyle with Ike Cella
Bus Stop in 12300 S / 210 E (EB) Draper, Utah to Reform Lifestyle with Ike Cella
Bus Stop in Kimballs Lane Station Draper, Utah to Reform Lifestyle with Ike Cella
Bus Stop in 700 E / 12300 S (SB) Draper, Utah to Reform Lifestyle with Ike Cella
Bus Stop in Lone Peak Pky @ 12236 S Draper, Utah to Reform Lifestyle with Ike Cella
Bus Stop in 13490 S / 372 W Draper, Utah to Reform Lifestyle with Ike Cella
Driving Directions in Draper, Utah to Reform Lifestyle with Ike Cella
Driving Directions from 7 Point Nutrition - Health & Weight Loss Coach to 7891 6100 W, West Jordan, UT 84081, USA
Driving Directions from Key Nutrition to 7891 6100 W, West Jordan, UT 84081, USA
Driving Directions from Natural Vibrance Nutrition to 7891 6100 W, West Jordan, UT 84081, USA
Driving Directions from Total Health and Fitness to 7891 6100 W, West Jordan, UT 84081, USA
Driving Directions from Amy Covington to 7891 6100 W, West Jordan, UT 84081, USA
Driving Directions from Only Natural Wellness Center to 7891 6100 W, West Jordan, UT 84081, USA
Driving Directions from Sovereign Lifestyle to 7891 6100 W, West Jordan, UT 84081, USA
Driving Directions from Fit Food 2 You to 7891 6100 W, West Jordan, UT 84081, USA
Driving Directions from Own My Health to 7891 6100 W, West Jordan, UT 84081, USA
Driving Directions from Kalene McCrary, NTP, CGP to 7891 6100 W, West Jordan, UT 84081, USA
Driving Directions from Body+ to 7891 6100 W, West Jordan, UT 84081, USA
Driving Directions from Skinny Utah, Draper to 7891 6100 W, West Jordan, UT 84081, USA
Reviews for Reform Lifestyle with Ike Cella Draper, Utah